Our Applications

MyWishlist
The MyWishlist application allows your customers to save and return to their favorite items at their convenience. People can share their respective wish lists with friends and family over email so that a community atmosphere is created around your store. You will also have the option to send reminder notifications to customers to get them back to your store front to purchase their saved items. MyWishlist will even provide you advanced analytics on your customers' spending habits and preferences so that you can continuously cultivate a better shopping experience.

AI: Loyalty, Referrals & More
The AI: Loyalty, Referrals & More program lets you seamlessly entice and motivate customers to continuously shop at your store. Manage a system where every store purchase leads to points and rewards for customers that can in return be redeemed for more store items. With this program, you'll be able to develop customer loyalty, while truly maximizing the brand potential for your store. Track all point activities from reward to redemption with our seamless and user-friendly dashboard.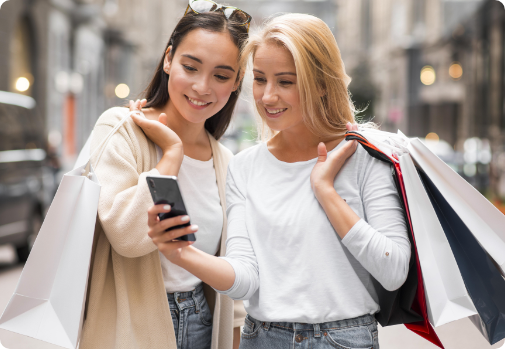 Quick Stock Notifier
The Quick Stock Notifier application is a restock alerting application that notifies customers via email or SMS for any selected product. With this application in place, customers can easily choose to be alerted when their favorite product is back in stock. Alerts can be customized to cater to individual preferences, including all combinations of specific size, color, and style. For your benefit, Quick Stock Notifier will send you reports on the number of emails/SMS messages that have been sent, received, and lead to new orders. Furthermore, you will be able to figure out the top products in demand, and in doing so, will have more information to better manage your inventory and sales.
Trusted by Shopify & Bigcommerce
HubifyApps is a leading Shopify & Bigcommerce partner and app developer. We help companies around the world with App development, website development, Strategy, and implementation of custom Shopify & Bigcommerce applications. We provide extensive technical support in these domains and are available around-the-clock to ensure our customer needs are met.
We have a history of publishing successful Shopify & Bigcommerce apps and can provide other eCommerce solutions and strategies at your request. With our work, you can win more customers, earn more revenue, and ultimately reach the eCommerce success you are looking for.
Our Services
We are Expert, Creative & a little Crazy Coders
BigCommerce
We have been developing eCommerce solution on App development, Support and BigCommerce integration.
Shopify App Development
We are shopify partner and developing Shopify custom Apps for merchant. provide complete support and market Shopify Applications.
HubSpot Module Creation
We are part of Hubspot Marketplace and Module creation program. We have been creating module on Hubspot.
Custom Web Solutions
We are one Stop shop for required Web App using Custom coding.
E-Commerce & Marketplace
We design and develop eCommerce, Marketplace and multi vendor websites.
Custom E-Commerce Work
We customize theme, plugin and work on any CMS. We are profound and follow clean coding to make web solution error free with quality work.
Why we are different from Others
We provide the best available eCommerce services, Custom Applications development and
are always thinking one step head to convert your ideas into desired solutions.
Here are some reasons why we are a cut above others..

We take advantage of social networks
We leverage social media and email integration so that your users can share your brand across the world.
We focus on customer engagement
We allow your store to build long-lasting customer relationships through our various services and solutions.
We guarantee more leads
All of our applications contain specific features that are designed to generate more quality leads for you. Of course, more quality leads means more potential customers and more revenue.
We are a one-stop solution
When you work with us, you will be provided all of the services and solutions (including technical support) that you will need to make your eCommerce store successful.
Easy to setup
Our top priority is simplicity. Every step you take with Hubify is smooth and easy.
We deliver quality applications that are easy to manage.
While other Shopify partners may solve the same problems we do, they can't match our simple user interfaces and easy integration process.

Continuous Improvement
We work tirelessly to improve our products so that they can continuously deliver more value to your business. Our roadmap is largely based on the questions you ask us. We promise to listen to your feedback and deliver the appropriate changes required.

Support Available 24/7/365
You can reach out to us via the "Contact Now" in our apps or by email at support@hubify.com . We have around-the-clock support and are more than prepared to help!
Frequently Asked Questions
Assuming that the concept of your solution can be generalized to other stores, yes. We are happy to listen to your needs and deliver an appropriate technical solution or modify an existing solution to custom fit your store's needs.
All of our applications can be obtained at affordable, monthly rates. Certain solutions have tiered plans, depending on your interest in select features. See each application's page for more details on their respective cost.
You can reach out to us via the dedicated support icon in our apps or by email at support@hubify.com.
About Hubify
HubifyApps is a leading Shopify & Bigcommerce partner, helping companies around the world with website, application development, installation of Shopify & Bigcommerce apps, development of custom apps, Shopify & Bigcommerce themes and extensive support.
As migration specialists we assist clients who are wanting to make the move from an ecommerce platform to Shopify & Bigcommerce. You can trust us to take care of your move as we'll walk you through the process, and you'll feel safe knowing you won't lose data along the way.
We make it easy to set up your Shopify & Bigcommerce store, whether you're shipping goods from your garage or have multiple warehouses around the world. With 8 years in the ecommerce industry and as a Shopify & Bigcommerce partner, HubifyApps has the expertise to work with your needs for an online ecommerce solution. Supported with a dedicated Project Consultant, we take the hassle out of getting your business online